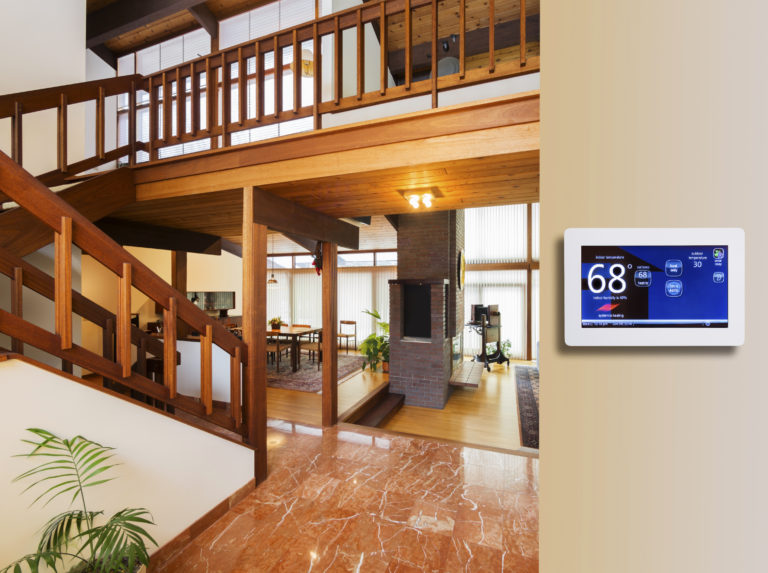 There's no doubt that technology has revolutionized our everyday lives. Implementing smart devices and technology throughout your home can improve your quality of life. Other than work, we spend the vast majority of our time at home and by using technology to automate everyday processes, we can save time, energy, and even money. Here are 8 ways to transform your home into a smart home.
Smart Home Assistant/ Smart Speaker
The first item you will need to turn your home into a smart home is a digital assistant. The two most popular options are the Amazon Echo and Google Home. Using voice commands, you can control many functions including the temperature, music, and even turn lights on and off. You can also use the assistant to set reminders or create your grocery list.
Smart Home Hub
Some smart speakers have a built-in smart home hub, but if your speaker does not have one you should consider a separate hub. The hub is essentially the brain, a central location where all your devices connect, allowing for total automation of your home from one app.
Smart Lightbulbs
Smart lightbulbs will not only make your life easier, but they are energy efficient! The bulbs will connect to your assistant giving you the power to turn lights on and off in any room with just the sound of your voice or on the app. Depending on the type of smart lightbulb you choose you can even control other settings such as changing colors!
Smart Thermostat
A smart thermostat can be used to automate the temperature in your home. The thermostat can connect to your hub or assistant and can be controlled through the app. It can learn your favorite settings and monitor temperatures in different rooms of your home. Plus, if you are coming back from a trip, you can adjust the temperature so it is perfect once you arrive home!
Smart Doorbell
Smart doorbells have become increasingly popular in recent years. They can create a way to keep your family and home safer. The smart doorbell will alert you when someone is present and allows you to speak through the doorbell. The HD camera inserted into the doorbell adds the extra protection of checking in at any time. This could come in handy for when you're not home. Most intruders ring the doorbell before breaking into a home, so if you're not there and someone rings, you're able to speak to them and see them which could potentially deter any further crime. Some smart doorbells even have the capacity to recognize frequent visitors and can tell you who is specifically at your door.
Smart Plugs
Smart plugs allow you to group and schedule devices via your app. You can use these to put timers on lighting, turn on appliances, and more! These are cheap, easy to install and connect to your smart home hub or speaker.
Security Cameras
One of the best ways to keep an eye on your home is through indoor and outdoor security cameras. Most smart home security cameras, whether indoor or outdoor, can easily connect to your home's wi-fi. Through your smartphone, you can access the cameras to check-in and ensure everything is as it should be. Most people opt to have multiple cameras outdoors. Putting one camera on each corner of your home can allow a full range of view to see what is happening all around the perimeter. Many security cameras come with a storage option, some recording movements and allowing you to save or rewind to view previous footage.
Smart Smoke and carbon monoxide detectors
Smart smoke and carbon monoxide detectors are essential in turning your home into a smart home. These smart detectors use technology to sense danger and alert you via your smartphone. Some detectors can even detect false alarms, only alerting you of a real threat. Most come with add-ons like sensors to determine occupancy in the home during an emergency.
Source: https://thesmarthomer.com/how-to-make-your-home-a-smart-home/