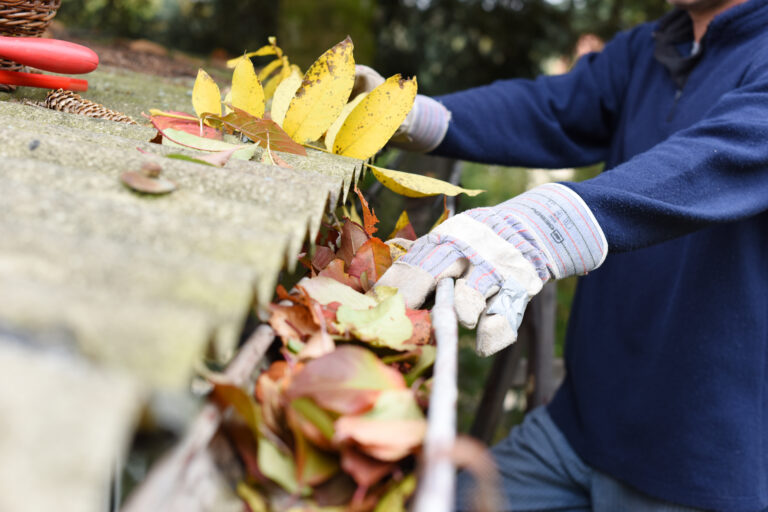 For most homeowners, fall is the season you adorn the house with harvest decorations and take in the colorful foliage. The new season can also be the perfect time to tackle some home improvement projects you have on your to-do list. The cooler weather makes outside DIY tasks more bearable, or if you decide to hire help, there may be more available contractors during the "off" season.
By making a few minor updates you can increase the curb appeal and overall value of your home. So, if you're a homeowner planning to sell in the spring or you're just looking to gain sweat equity, it might be time to roll up your sleeves and invest in a few simple improvements:
Paint the front door.
One of the most effective, yet simple, ways to spruce up your home's exterior is by painting the front door. Applying a fresh coat of paint instantly gives your home a more polished look and the cooler weather is optimal for exterior painting. Repainting the shutters to match is also a nice touch!
Repair the deck or patio.
Having a deck or patio is something that home buyers value enormously. However, if the wood is warped, splintering, or faded, it becomes more of a problem than a benefit. The sight of a deck in poor condition can reflect badly on the overall aesthetic of the backyard. If your deck needs to be repaired, simply power washing or applying a new finish can do the trick. However, if the overall structure needs work, it's probably worth the investment to hire outside help.
Power-wash the exterior.
The amount of value this adds to your home depends on the level of cleaning needed. Taking care of a few minor stains will help a home sell and it's a moderately easy DIY project for the homeowner. However, if most of the exterior needs washing, hiring a professional could add phenomenal value when the job is finished. Although the cost of using outside help might be intimidating, having your home look like new will be worth it.
Replace the windows.
Windows can be a costly investment, so it's wise to hold off on complete replacement unless there is serious damage, or the insulation is so poor it racks up utility bills. If you have large bay windows, periodic washing of the interior and exterior will help retain your home's look and value.
Update your HVAC.
If your HVAC system is more than 15 years old, it might be worth it to upgrade. It's not a major highlight on a buyers list, but if they point out the system is old, it could be a way for them to negotiate a lower price.
Clean the gutters.
Cleaning the gutters probably seems like a less exciting task on the home improvement list, but regular maintenance prevents larger problems down the road. Overlooked rain gutters could amount to foundation damage, which would mean substantial costs and devaluation of a home. To prevent future damage, make sure you stay on track with this chore and give your home the care it needs to last a lifetime.