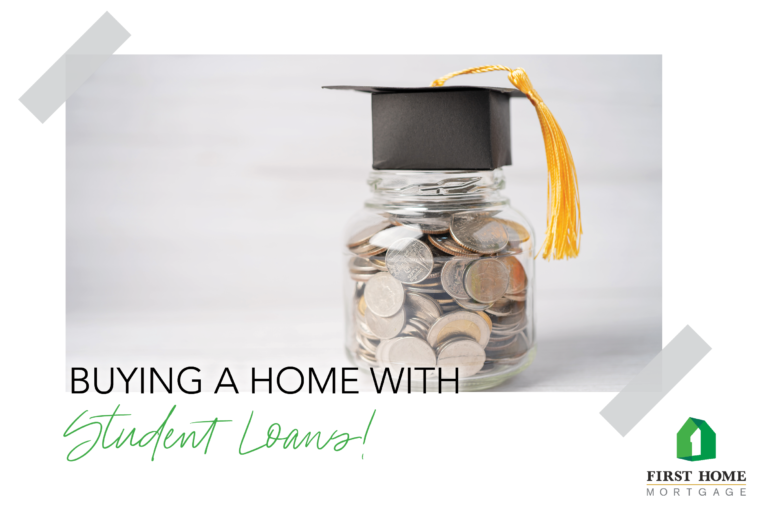 Congratulations to all the college graduates out there as we kick off another graduation season! Whether you're a recent grad, still in school, or you finished years ago, chances are high that you're carrying some student loan debt. According to the Education Data Initiative, over 43 million Americans have student loan debt, with the average debt per borrower coming in at over $37,000 for federal student loans and nearly $55,000 for private loans.
If you're hoping to buy a house soon, having that much debt hanging over you can feel like a real barrier to entering the market. Thankfully, there are a variety of options to consider that can help bring your homeownership dreams within reach. Here are some tips, strategies, and resources to help you navigate the homebuying process while carrying student loan debt.
Determine Your Financial Health
Just like any homebuyer, your first step should always be to assess your financial situation to gain a better understanding of what you can afford and what your buying strategy should look like. Start by reviewing your credit score, making a plan to address any credit issues , and calculating your monthly income and debt obligations.
Explore Mortgage Loan Programs for Borrowers with Student Loan Debt
Many first-time buyers are surprised to learn that there are a variety of mortgage loan assistance programs that can greatly benefit them – and some of those programs are designed specifically for borrowers with student loan debt. These programs offer a range of advantages, including lower interest rates, reduced down payment amounts, debt forgiveness, and more.
In our home state of Maryland, for instance, the Maryland SmartBuy Program is offered by the Department of Housing and Community Development. Through the program, qualifying homebuyers can receive up to 15% of the home purchase price to pay off student debt in the form of a 0% interest deferred loan with no monthly payments, forgivable over five years.
Terms for programs like this one may seem a bit complicated, and figuring out the best route for your unique circumstances can be a challenge. If you're ready to start exploring your options, it's never a bad idea to speak with an experienced loan officer. who can help you determine your eligibility and the potential benefits of programs like these.
Reevaluate Your Student Loan Repayment Plan
When you took out your student loans, you entered into an agreement about how and when those loans would be repaid. Like with most types of loans, you likely still have some options at your disposal for refinancing, restructuring, or otherwise modifying your student debt. You may want to investigate some of the following strategies:
Income-Driven Repayment (IDR) plans cap your monthly payments relevant to your earned income. While altering your repayment terms may actually add to the long-term cost of the loan, the reduced monthly payment obligations could potentially help improve your debt-to-income (DTI) ratio, helping you to secure a mortgage that works for you.
Lengthening the term of your loan is another way you may be able to reduce your monthly payments, thereby improving your DTI ratio. Keep in mind however that this, too, often increases long-term costs by stretching your borrowing over a longer period.
Consolidating your loans (if you have several of them) may open new options for you to refinance your total overall debt at a lower rate, choose a new loan servicer, or receive more favorable terms.
Keep in mind that all of the options listed above are highly specific and may come with tradeoffs. Before making any changes to your payment plans or loan details, be sure to consult with a financial advisor and consider all the relevant implications.
Conclusion
Buying a home while dealing with student loan debt may be challenging, but it's far from impossible. With the right planning and guidance, you can find the best options available to you and begin the search for the home you've been dreaming of.
If you're ready to hit the housing market but you don't know where to start, get in touch with one of our loan officers to see how you can take advantage of the right programs and strategies to help you succeed.