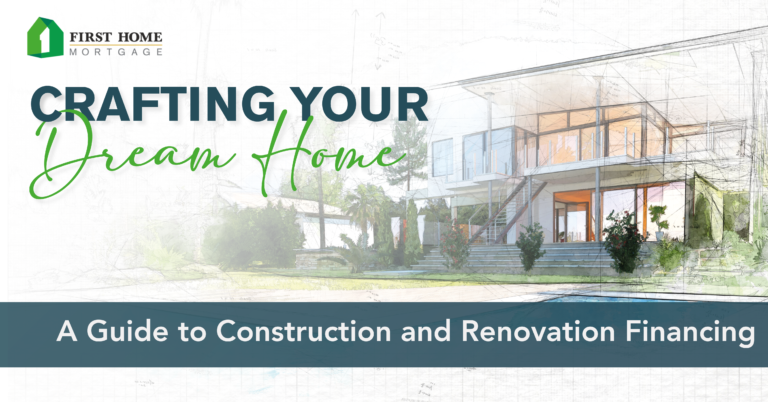 When faced with a competitive housing market and limited inventory to go around, it's not uncommon for many buyers to feel like their options are extremely limited. After all, finding the perfect home that fits your budget, your current needs, and your plans for the future is no small task, even in the best buyer's markets.
If you're in a similar situation, or if you already own a home that you'd like to improve (like the 55% of homeowners who renovated in 2021, according to one study), you may want to consider two often overlooked loan options: construction loans and renovation loans.
Unlike the conventional, long-term mortgages that typically come to mind when thinking about home loans, construction and renovation loans (renovation loans are typically 30-year fixed loans) are specialized options for building or renovating a home that could be just the right move for a buyer who's feeling limited by what the current market has to offer.
Construction Loans: Building Your Dream Home
If you have your sights set on building a new home from scratch, construction loans can provide the investment capital you need to get the job done – including purchasing land, materials, labor, and more. These short-term loans are specifically designed to finance the construction of a new property. Typically, construction loans have a term of one year, and upon completion of the home, the borrower must secure a permanent home loan.
With a construction loan, you have the flexibility to shape your ideal living space according to your preferences and requirements. Working with First Home Mortgage means you can explore the right construction loan for you and then take out a mortgage with a lender you've already built a relationship with.
Renovation Loans: Transforming Your Existing Home
Maybe you've got an older home that's due for some updates, or maybe you've found one to buy that would be just right if you could add that second bathroom, finished basement, or any of the most popular home improvement projects. Well, a renovation loan might be right for you.
Home renovations are popular and often expensive. According to the Joint Center for Housing Centers of Harvard University (JCHS), spending for home improvement projects increased from $328 billion in 2019 to $472 billion in 2022. It's expected to climb even higher in 2023, due largely to inflation and supply chain shortages.
Renovation loans provide the necessary financial support for home repairs, renovations, and remodels. There are several options available for renovation loans, including FHA 203(k), FNMA HomeStyle®, and Freddie Mac CHOICERenovation® mortgages.
FHA 203(k) loans, offered by the Federal Housing Administration, enable borrowers to finance repairs within a single mortgage on their primary residence. These loans require a minimum down payment of 3.5% on a purchase and come in two types: Standard FHA 203(k) loans, which allow borrowers to finance rehabilitation costs starting at $5,000 without a maximum limit, and Limited FHA 203(k) loans, which provide renovation and repair financing for up to $35,000 in total renovation costs.
Alternatively, Fannie Mae HomeStyle® and Freddie Mac CHOICERenovation® mortgages,   empower you to purchase and renovate a primary residence, second home, or investment property. These loans require a minimum down payment of 3% or more, where applicable, and allow you to combine the cost of purchase and renovation into a single mortgage, up to the conforming loan limit for the county/district.
That's a lot of numbers and acronyms, but the main takeaway is that you may have some options to consider. As always, consulting with an experienced loan officer can help you get a better understanding of what's available for your unique circumstances.
Determining if a Construction or Renovation Loan is Right for You
If you're considering building a home, evaluate whether your current financial situation favors building over buying. Assess your timeline for moving into a new home and factor in any time constraints, potential for delays, unexpected costs, and your overall level of comfort with taking on a major undertaking like this.
If you're contemplating renovations, assess whether it's the right time to proceed and if the renovations will significantly enhance your quality of life and the value of your home. There are many variables that impact the overall cost, and they should be carefully weighed against your short-term and long-term goals.
Obtaining a Construction or Renovation Loan
Once you've decided to pursue a construction or renovation loan, it's essential to evaluate your current financial standing. Start by assessing your credit score, debt-to-income ratio, and overall financial health.
For both construction and renovation loans, obtaining pre-qualification is key. It provides a solid estimate of your borrowing capacity and helps you establish a realistic budget, enabling you to plan your project effectively. If you're not already pre-qualified, you might be surprised to find how quick and easy it is – and without any impact on your credit score*.
If you're ready to explore the construction and renovation loan options available at First Home Mortgage, connect with one of our loan officers today and start your search for the loan that will help you build or remodel your dream home.
HomeStyle® is a registered trademark of Fannie Mae. CHOICERenovation® is a registered trademark of Freddie Mac. *A soft pull will not affect your credit score however if you decide to proceed with a full mortgage loan application, a full credit report will be ordered.