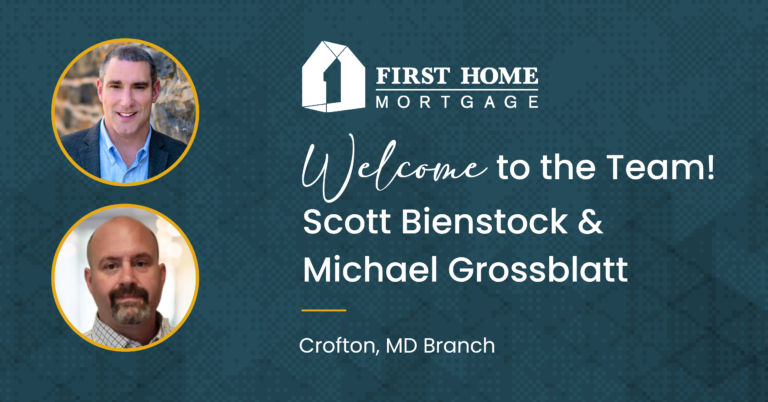 At First Home Mortgage, we know that the key to our success is the cumulative talent, effort, and dedication of our incredible teams, and that's why we're always seeking new opportunities to grow our talent pool. Today, we are excited to announce that our Crofton office is growing with the addition of new members of the First Home team, as well as two new leaders, Branch Managers Scott Bienstock and Michael Grossblatt!
Scott Bienstock
Scott brings over 15 years of real estate and mortgage experience to his role as Branch Manager of the Crofton office. As a former licensed real estate agent, he has a valuable perspective of the industry and unique insights into the entire homebuying and mortgage process. Scott specializes in purchases, first-time homebuyers, FHA 203k, investment properties, USDA, VA, VA rehab and conventional rehab loans.
"First Home Mortgage's commitment to excellence and client-focused philosophy made accepting this new position an easy decision," said Scott. "I am excited to be part of this incredible team of passionate, talented mortgage professionals serving the Crofton community."
Michael Grossblatt
With more than two decades of experience in the mortgage industry, Michael Grossblatt brings a wide range of mortgage origination expertise and financing industry knowledge to his new role as Branch Manager. Michael is passionate about community service and is active in supporting a variety of local organizations and nonprofits. He is enthusiastic about helping his clients build wealth and accomplish their goals through homeownership.
"In the real estate and mortgage business, building and nurturing relationships within your community is the key to success," said Michael. "As a member of the First Home Mortgage team I look forward to taking a community-first approach to helping my clients and neighbors achieve their homeownership dreams."
A Shared Vision for Success
Scott and Michael share a common goal for the Crofton branch – to continue building on the vibrant and supportive culture where clients feel valued and supported throughout their homeownership journey. With the help of the other new members of the team, they will continue raising the bar for home financing even higher.
Welcome aboard, Scott and Michael!