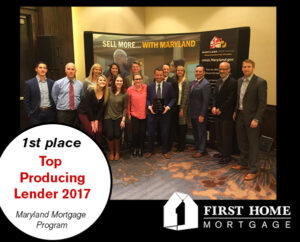 On January 19th, 2018, the Maryland Department of Housing and Community Development honored its top four performing lender partners of 2017 – First Home Mortgage Corporation acknowledged as their Top Producing Lender.  With an audience of nearly 300 program partners, the department debuted their redesigned website, presented their new enhancements and processes on new loan and down payment assistance products and expressed their gratitude for these top performing lenders.
Did you know that between 2015 and 2017 the Maryland Mortgage Program assisted more than 7,800 homebuyers?  This means over $39 million was provided for down payment assistance and $1.5 billion in mortgages.
INCREDIBLE!
According to the Department of Housing and Community Development, "the Maryland Mortgage Program has been the state's flagship homeownership program for more than 35 years, providing fixed-rate mortgages, primarily to first-time homebuyers, along with down payment and closing cost incentives."  With the announcement of these new loan and program enhancements, homeownership in Maryland is even more affordable than ever before.
These enhancements include:
The existing 4% Grant Assist program for down payment assistance can now be used for FHA loans as well as Conventional, USDA, and VA loans
Creation of the Maryland 6% Opportunity Grant to increase access to homeownership for lower income homebuyers (for HFA Advantage mortgages only)
New Maryland Credit 640 program to assist homebuyers with FICO scores in the 640-659 range when purchasing a home in Maryland
New program website to be more user-friendly and responsive for all customers
To read more on First Home's announcement as Top Producing Lender by the Maryland Department of Housing and Community Development, click here.
To learn more on how to get started with a Maryland Mortgage Program, contact a First Home Loan Officer.