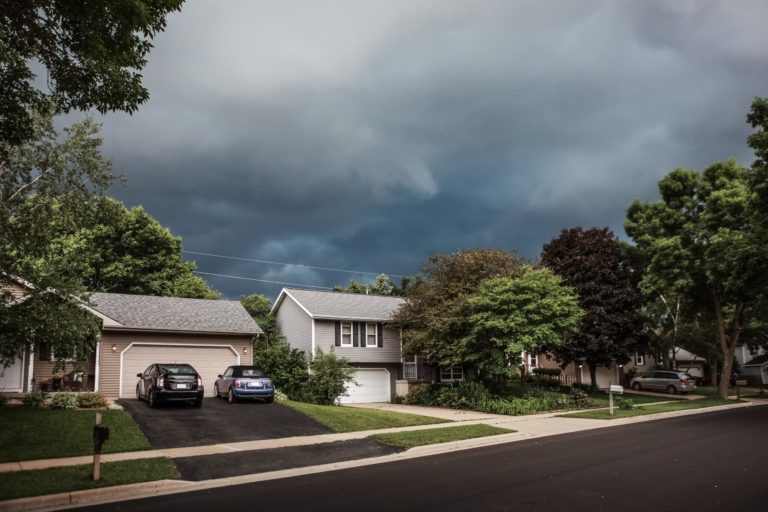 Between volatile summer storms and hurricane season, mother nature can wreak havoc on your home. It's important to know how to prepare should severe weather strike.
Perform Outdoor Maintenance
Maintaining the area around your home is one of the best preventative measures you can take before encountering severe weather. Clear long or dead tree limbs, especially those close to your house or power lines. Make sure the trimmings are properly disposed of so they don't end up in the street amid high winds. Your gutters need to be cleaned and have downspouts facing away from your home so water can drain properly. If you know a strong storm is coming ahead of time, you may want to install temporary protection on critical areas of your home such as windows, doors, and roofing. Check to see that your fences are secured properly and either anchor outdoor furniture or bring it inside. Regularly maintaining your yard will save you time and stress should a hurricane or other serious weather system chart a course towards you.
Create a Storm Emergency Kit
Natural disasters can strike without warning; having an emergency kit stocked and stored can make all the difference in an emergency. At a minimum, your kit should include things like 3 days' worth of water (at least 3 gallons for a gallon a day), non-perishable food, a first aid kit, a flashlight, a radio, and batteries. Consider your family and any unique needs you have. If you have children, you may want to include books and games to keep them occupied. Once you've created it, keep your kit somewhere secure and easily accessible. Periodically check any electronics in your kit to ensure they still work, and make replacements as needed. Consult the Department of Homeland Security's guide to creating an emergency kit for more information and suggested provisions (including updates from the CDC in light of the COVID-19 pandemic) and to create a family emergency plan.
Check Out Your Homeowner's Insurance Policy
Familiarize yourself with your homeowner's insurance policy. Make sure you know what is and isn't covered and upgrade your coverage if necessary. Many standard plans don't cover damage caused by flooding or earthquakes, so you may need to purchase additional coverage if you live in an area particularly susceptible to them. Understanding your insurance policy prepares you for handling claims should your home incur any damage as the result of a storm. You can even include important insurance documents in your emergency kit.
You can find more of our blogs and other resources here!