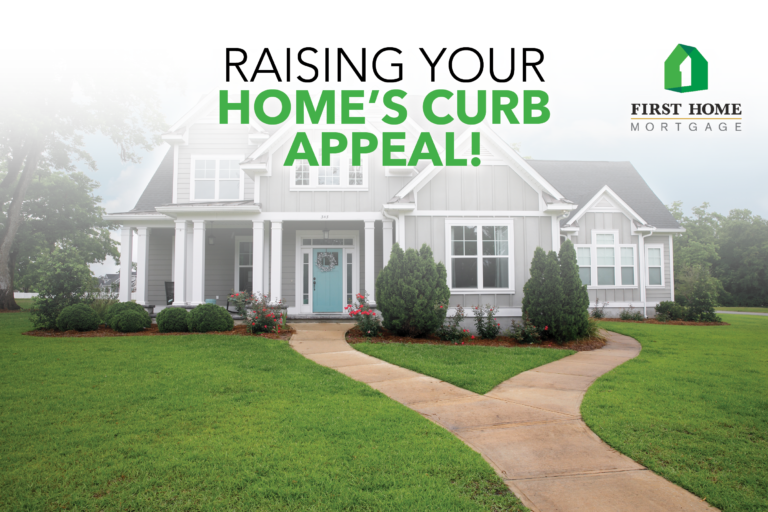 While it's true that homebuying demand remains strong and housing prices have been trending higher for the last few years, some experts believe we're headed for a buyer's market before long. Whether that turns out to be true is up for debate, but no matter what market conditions look like, certain opportunities will always remain for sellers to raise their asking price and attract more offers. We're talking about curb appeal – and if you're planning to sell your house now or in the future, it may be worth considering if it's time your home got a little glow-up.
What is curb appeal?
First impressions can mean everything to prospective homebuyers. Curb appeal is a broad term for the overall attractiveness of a property when viewed from the outside. A home's curb appeal will likely influence a prospective buyer from the moment they first approach the home, potentially impacting the amount of their offer – or their decision to walk away.
In a recent report by the National Association of Realtors®, 92% of Realtors suggested sellers improve curb appeal prior to listing a home for sale. In this article, we'll cover some of the basics that you might want to consider before listing your own home.
A note before beginning
The elements that contribute to a home's curb appeal range from large to small. Before starting any major projects, you should set some expectations and consider the expenses, time commitments, and risks that may be involved. As with any investment, there are no guarantees on your return. If you're working with a real estate agent to list your home, consider consulting with them for additional insight on what your best moves might be.
Raising your home's curb appeal
Once you're ready to take a critical look at your home for ways to boost curb appeal, here are some great places to start:
Landscaping. A study by Virginia Tech found that homes with good landscaping and curb appeal sold for 5.5% to 12.7% more than homes with average or poor landscaping. Luckily, this is one of the easiest and most cost effective improvements a homeowner can make. A well cared-for lawn that's free of weeds, along with some neatly trimmed trees, shrubs, or other greenery, can make a home look clean and attractive from the outside, while suggesting that the inside is equally well maintained. Removing dead or overgrown trees can revitalize a home and give it a better view from the street.
Clean and declutter. It may sound obvious, but often we get used to the status quo and "look past" clutter that accumulates – like the seasonal decorations that are overdue for taking down, kids' toys scattered across the lawn, or seasonal yardwork that we're behind on. Luckily, a little bit of cleanup, organization, and some pressure washing of your porch, deck, walls and windows can go a long way. Utilize your garage (if you have one) to store vehicles, tools, and toys to keep things looking tidy. Once things are in order, keep them that way with a diligent clean-up and maintenance schedule.
Front-of-house refresh. You've got a beautiful home – why not show it off? Make your house appear more welcome and inviting with the right steps. Restore or repaint your walkway, porch and any gates or railings to remove rust and chipped paint, creating a fresher, cleaner look. Consider repainting your front door – maybe even using a bolder color – for an eye-catching look. Repair or replace any old or broken porch lights, door knobs, or mailbox features. Some simple outdoor furniture, plants, and decor can also add style and character at relatively little expense.
Renovations and repairs. Obviously, major elements of the home's exterior like a distressed roof, cracked windows, and other structural issues are easily noticeable and will have a big impact on curb appeal. Unfortunately, these are often some of the biggest and most expensive improvement projects that a homeowner will encounter. A good compromise may be to start small: fix crooked or damaged gutters, touch up paint on window shutters, fill cracks in the sidewalk or driveway, and replace damaged siding. Then, you can reassess and decide on any bigger issues that need to be addressed.
Don't stop at the exterior
Finally, although we've been focusing on your home's exterior in this article, many of the same ideas can be carried over into the exterior. Most buyers will see photos of the exterior and interior of the home on sites like Zillow or Trulia long before they see it in person. Here are a few quick, easy, and affordable DIY makeover moves to help with the inside of your home:
Start with easy touch-ups. Replace cracked or broken switch plate covers and ventilation registers, fill holes in the wall, recaulk sinks, tubs, and showers, etc.
Find the right lighting. Create a cozier atmosphere with ambient light. Pay attention to light temperature and bulb wattage to set a tone that makes guests feel welcome.
Go green. It doesn't take much to add a little greenery to your space. A few houseplants can add color and vibrancy to your home for relatively little cost or maintenance.
Remember – when it comes to curb appeal, a little work can go a long way! Get your best shot at a successful sale with these curb appeal tips to make your listing stand out above the rest.