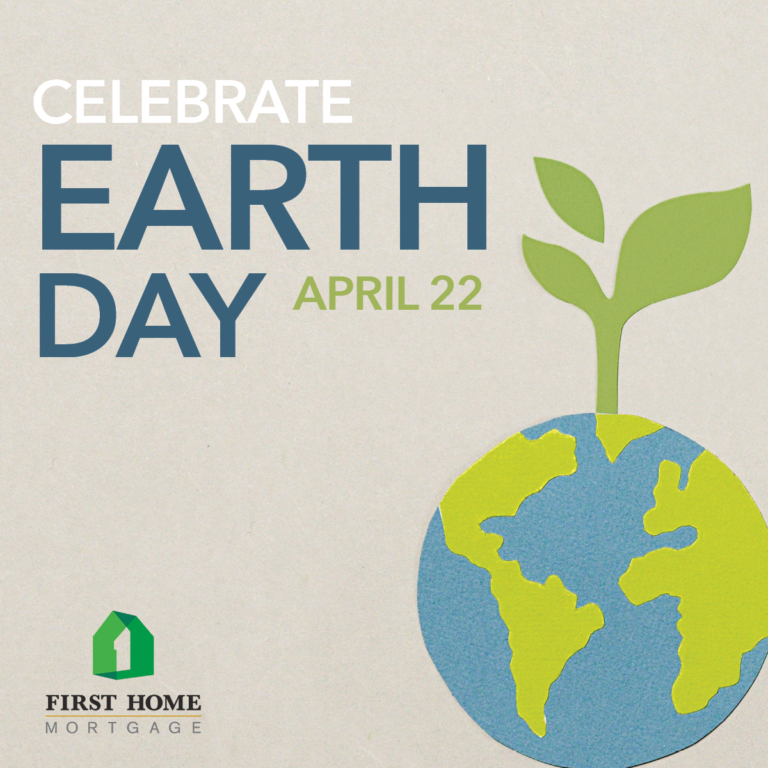 April 22 is Earth Day, and our annual reminder that our first and only true home is this big blue beautiful planet we call Earth. If you're looking for ways to live more sustainably and make your home more environmentally friendly, you're in luck! These three tips can help you do your part to save the planet – while saving yourself a little green with your home finances.
Upgrade Your Efficiencies
Energy bills are a significant monthly expense for most homeowners, and residential energy use is a major contributor to environmental issues. Upgrading your energy efficiency is one of the best things you can do to reduce your environmental impact and lower your utility bills, but the time and investment needed for some of these upgrades can be high.
Good news – you don't have to do it all on your own! Many utility providers offer free energy audits, rebate programs, and discounted prices for energy efficient upgrades and appliances. Start by checking the websites of your electric and gas providers to find offers you can take advantage of. Additionally, you can research your eligibility for certain federal income tax credits related to energy efficiency.
Once you've explored these promotions and incentive programs, do an inventory of your home for energy efficiency opportunities and consider some of the low-cost upgrades that can help reduce your energy consumption:
Upgrade to Energy Star®-certified appliances
Install and program a smart thermostat
Swap old bulbs for LED lighting
Install low-flow faucets and showerheads
Add insulation and weatherstripping to doors and windows
Organize, Upcycle, Sell
Spring is the perfect time of year for a little bit of cleaning, organizing, and refreshing. Why not motivate yourself to get your home in order by focusing on the environmental and financial benefits?
Most of us accumulate so much stuff that we end up underutilizing what we already have and buying more unnecessarily. This can add up over time to be an expensive habit, but giving things you already own a second life can be extremely fulfilling. Here are a few ways to reduce, reuse, and recycle things already in your home:
Before investing in a new spring wardrobe, take a look at what you already have. Good quality clothing can often be tailored, mended, and otherwise refreshed to extend its life.
For clothing, furniture, books and children's toys that are no longer useful to you, consider selling them online or at a local resale shop. If you're not confident in their resale value, donate to a local charity or nonprofit – donations may even qualify for a tax deduction!
For odds and ends you aren't sure about, search online for inspiration. There are countless creative ideas on Etsy, Pinterest, and elsewhere for transforming household items like bottles, bags, and more into something useful, decorative, or fun. Even better – some of these DIY projects double as inexpensive family-friendly activities!
Look to Your Lawn
If you've got an outdoor space (or even if you don't), there are plenty of environmentally friendly, frugal things you can do to make a positive impact. Here are a few you may want to consider this spring:
Planting native trees and flowers helps your local ecosystem and reduces your energy usage. These plants provide food and habitat for local wildlife, promote biodiversity, and require fewer pesticides and fertilizer. Trees improve air quality, help regulate temperature, and can combat erosion and pollution.
Composting is a great way to reduce food waste, which lessens the amount of organic material that ends up in landfills and cuts down on greenhouse gas emissions. Even better – with proper composting techniques, you can create rich, healthy soil for your lawn and garden, if you have one.
Cut back on your water usage with the right lawncare and garden techniques. Rain barrels (if permitted in your area) can significantly lower your water bill and conserve clean drinking water. Replacing traditional lawns with drought-resistant plants and hardscaping can make a huge difference on the amount of water, fertilizer, and pesticides your yard requires, saving you time and money while lowering your environmental impact.
Earth Day is a great time for encouraging friends, family and neighbors to look for ways to help the environment and live more sustainably. Whether you're sprucing up your home for another season or looking to buy, sell, or refinance, First Home Mortgage is here for you. Contact one of our loan officers today to see how we can help support your homeownership goals.
Happy Earth Day!