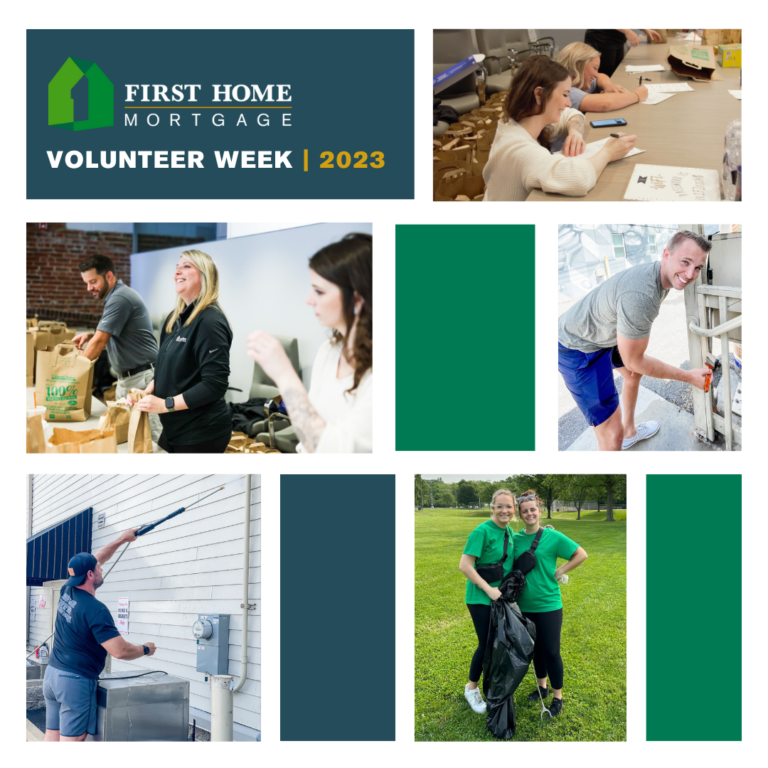 As a community-focused residential lender, we pride ourselves in the strong relationships we've developed with our surrounding neighborhoods. Supporting these communities is a critical part of our identity, so in May, we launched Volunteer Week – an exciting new initiative to rally together in the spirit of giving back!
During the week of May 15-19, about 200 members of the First Home team volunteered their time, talent, and energy to support the critical work of six local nonprofits. The end result was a series of memorable experiences where team members spent quality time together, giving back in a meaningful way while providing support and awareness for these important organizations.
Here's a look at each of the nonprofits we partnered with during Volunteer Week:
Pathways to Housing DC (Washington, DC)
For the last five years, First Home Mortgage's Chevy Chase, MD branch has been proudly donating $100 for every closing they've performed to the phenomenal Pathways to Housing DC, a local nonprofit working to end homelessness while bringing health and hope to those who have been affected by it. For Volunteer Week, the office got more hands-on with their giving, assembling welcome-home baskets and hygiene kits for members of the community who have recently experienced homelessness.
"As a lender, we're able to help a lot of people move into their first home," said Jake Ryon, loan officer for our Chevy Chase branch. "But there are some people we can't help – and they deserve to have these same opportunities. Pathways is this organization that runs parallel to what we do, and it helps those we can't help. That's why we're very passionate about it."
Ronald McDonald House of Maryland (Baltimore, MD)
Members of our Canton branch and our corporate office in Baltimore assembled and delivered non-perishable donations for guests of The Ronald McDonald House of Maryland, which has been providing a "home-away-from-home" for seriously ill children and their families for over 40 years.
"We're very involved in our community here," said Jack Hinder, sales manager of our Canton office. "We do the bulk of our business here in Baltimore and the surrounding county. It feels good to give back to the community that's given us so much."
"It was a very overwhelming response from everyone in our branch and at corporate, who wanted to not only donate, but also volunteer their time and go drop off the goods at the Ronald McDonald House," said Ayaz Rahemanji, branch manager of our Canton office.
Nourishing Bethesda (Bethesda, MD)
Our Bethesda office partnered with Nourishing Bethesda, whose mission is to fight food insecurity in the area by providing nutritious food and community support to neighbors in need. Volunteers put together bags of snacks and nonperishable foods that will go to seniors, schoolchildren, and others in the community who are struggling with food insecurity.
"I think volunteering is our way of saying thank you to the local community," said Rob Mercer, branch manager of our Bethesda office. "It's also a great team building experience. It's nice to help those who aren't as fortunate as us – it just feels great."
Calvert County Parks & Recreation (Prince Frederick, MD)
Hallowing Point Park is a treasured outdoor space for children, families, and residents of all kinds in the Calvert County area. Members of our Dunkirk, MD and Hollywood, MD offices organized a trash cleanup through Calvert County's Adopt-A-Park program as a way of giving back to the park where they've cherished for so many years.
"Hallowing Point is really special to us," said Tim Sisson, branch manager of our Dunkirk office. "All of us played sports here growing up, and now we have kids that are playing sports here. So it just feels really good to be able to clean it up."
"I lived in Calvert for 20 years," said Arlene Dean, loan officer for our Hollywood office. "I love this area, love this community. My boys have played football here for many years – it feels great to give back to the community."
Habitat for Humanity of Greater Plymouth (Plymouth, MA)
Habitat for Humanity of Greater Plymouth is a nonprofit organization that provides affordable homeownership opportunities to help low-income families. The group constructs, rehabilitates, and preserves homes throughout southeastern Massachusetts with the help of dedicated volunteers.
To make their work a little easier, members of our downtown Plymouth branch hosted a donation drop-off to collect much-needed items that support the builders and office workers who carry out the nonprofit's mission, as well as the homeowners that the group supports.
"Groups like Habitat for Humanity of Greater Plymouth have the power to completely change a family's life for the better," said Anne Borghesani, branch manager of our downtown Plymouth office. "It was truly inspiring to know the resources we helped collect will be put to good use for such meaningful work."
Annapolis Light House (Annapolis, MD)
Finally, members of our Annapolis office rolled up their sleeves and lent a hand with painting and powerwashing at Annapolis Light House, a homeless prevention support center providing shelter and services to combat homelessness and empower people transitioning toward housing.
"Volunteering is really an opportunity for us to give back," said Chris Edge, loan officer for our Annapolis office. "Working in housing, it was important to us to identify and partner with someone in the community who's doing the good work to help people re-enter housing."
"The work that Light House does in our community is as inspirational as it is impactful," said Jason Nader, branch manager of our Annapolis office. "They go beyond just providing food and shelter to those experiencing homelessness by addressing underlying causes with long-term solutions. We're proud to support their mission."
Volunteer Week was a great reminder that no matter how many branches our team is spread out across, each of our offices is deeply rooted within its community. Cheers to all of our participants – keep up the great work, and we look forward to future opportunities for growing closer and giving back!