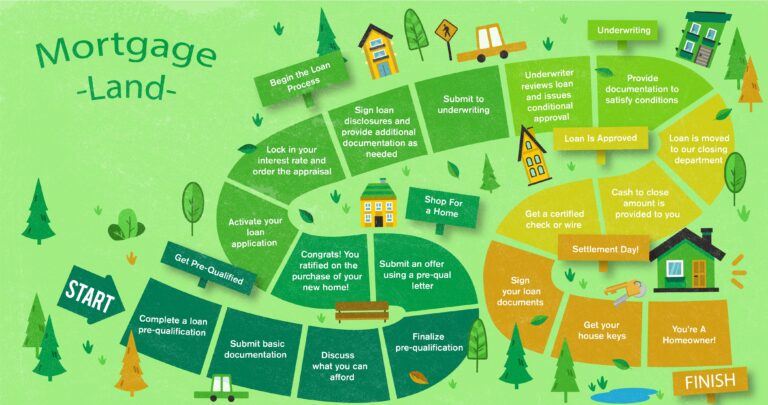 Get Pre-Qualified
Complete a loan pre-qualification – Contact one of our loan officers to get started!
Submit basic documentation – This can include pay stubs, bank statements, credit reports, and statements for any other debts or loans you might have. Your loan officer will let you know exactly what they need!
Discuss what you can afford – Your loan officer will discuss mortgage program options with you to find the best fit for your budget and situation. A monthly budget worksheet can be very helpful for this part of the process because it helps you to review your spending habits so you know how much money you'll want to have leftover after your home bills each month.
Finalize pre-qualification – Your loan officer will put together a pre-qualification letter based on your loan choice so you can start shopping for a home!
Shop For a Home
Submit an offer using a pre-qualification letter – Home sellers almost always require a letter of pre-qualification from a lender along with the purchase offer from your realtor. If they accept your offer, you can move on to the next step!
Congrats! You ratified on the purchase of your new home – This means the seller has accepted your purchase offer in writing!
Begin the Loan Process
Activate your loan application – Your loan officer or loan processor will reach out to you to guide you through these steps.
Lock in your interest rate and order the appraisal – Locking your interest rate means that if rates go up prior to closing on your home, your rate stays the same. Your loan processor will schedule an appraiser to verify the current market value of the home you are going to purchase.
Sign loan disclosures and provide additional documentation as needed – Your loan processor will send you important disclosures with information about your loan to sign electronically and let you know if they need any additional documents from you to send over to one of our qualified underwriters.
Submit to underwriting – Your loan processor and loan officer will send all of the information on your loan choices, the home you are purchasing, and the documentation you have provided to our underwriters to finalize the approval of your loan.
Underwriting
Underwriter reviews loan and issues conditional approval – A conditional approval means your loan is approved so long as you provide any additional documents that they might need. There are not always conditions on approval at this point in the process, but it is not uncommon.
Provide documentation to satisfy conditions – Your loan officer, loan processor, and underwriter will work with you to obtain any additional documents needed for the final approval of your loan.
Loan is Approved
Loan is moved to our closing department – Your loan officer or loan processor will reach out to you to find out which title company you would like to use and schedule the closing. They will also send you a Closing Disclosure to review and sign three days prior to closing.
Cash to close amount is provided to you – This is the amount of money needed "at the table" (even though many closings are now electronic!) on the day of closing. This information will have been included in your Closing Disclosure.
Get a certified check or wire – Reach out to your bank to obtain a certified check or wire transfer for the amount needed for closing. Be aware of wire transfer fraud and confirm directly with your title company that the wiring information is accurate!
Settlement Day!
Sign your loan documents – This can now be done in person or remotely!
Get your house keys – Congratulations!! Once the paperwork is signed and completed you'll receive your new house keys!
You're a homeowner! All of your hard work has paid off and it's time to enjoy your lovely new home.
If you have any questions about the process of purchasing or refinancing a home, including questions about low and no down payment options, reach out to one of our experienced Loan Officers today!