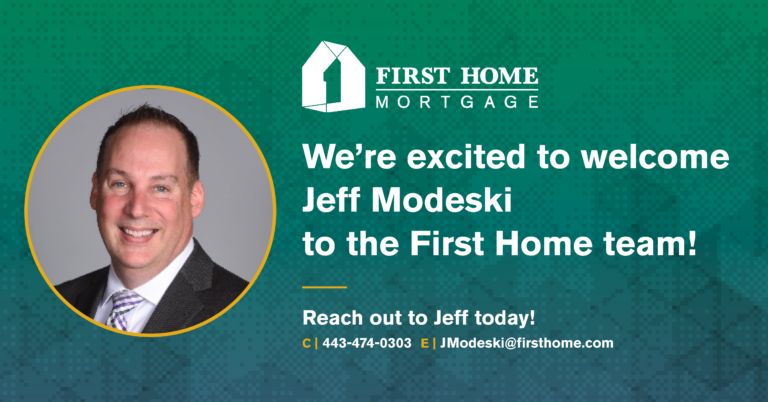 First Home Mortgage's Columbia, Maryland office location is about to get a little bit bigger with the exciting addition of our newest branch manager, Jeff Modeski.
Jeff is an experienced mortgage professional with more than 22 years of experience working for some of the best mortgage lenders in the industry – including First Home Mortgage! That's right, Jeff actually began his career as a loan officer with First Home in 1997, working as part of our team for nearly five years before venturing off to explore other opportunities throughout the industry. Now, he's returning to us as a seasoned expert in the field of residential lending.
"First Home is where I got my start in the industry," said Modeski. "I learned invaluable lessons and had some truly memorable experiences that have stayed with me throughout my career. I look forward to beginning this new chapter as branch manager of the Columbia office and once again being a part of this incredible organization."
The branch manager role is an essential one, and Jeff will be in good company as he leads his team to success. He joins Chris Sittig, the current branch manager of the Columbia office, who himself has more than 20 years of experience originating mortgage loans and helping buyers achieve their dreams of homeownership.
Both Chris and Jeff share a passion for working with clients to meet their unique homeownership goals. The two branch managers will be leading branch operations together to provide the local community with their signature level of high-quality service.
"On behalf of the entire First Home team and the Columbia branch, we're excited to welcome Jeff back to First Home," said Sittig. "This office has set some ambitious goals and set the bar high for client service. Jeff's talent and experience will no doubt help us continue to reach even higher as we build on our tradition of excellence."
Welcome home, Jeff!