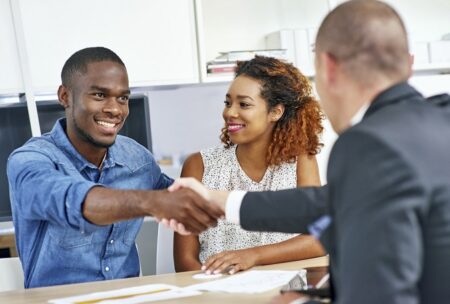 You've made it to the final step in the home buying process, closing. After all of the settlement documents have been signed and funds distributed, ownership of the property will transfer and the house is finally yours! Here's what you can expect in the days leading up to your closing.
Prior to Closing
At least 3 days prior to closing, you will receive your initial closing disclosure (CD). This document shows your closing costs, terms of the loan and how much money you need to bring to closing. Review this document carefully to make sure all the fees are correct. If you have questions or fees do not look correct, don't be afraid to reach out to your loan officer. You should already have the date and time for settlement, but it won't hurt to confirm with your settlement agent. If you are taking time off of work, give yourself at least a couple of hours for settlement. Your settlement agent should have also discussed wiring closing funds to them.
Closing Day
What to Bring
If you have wired your money to the title company, bring the proof of wire transfer and also your checkbook in case there are any last minute changes to the CD. Be sure to bring your ID, driver's license or passport.
Who Attends
There are a few people who may attend closing. Your real estate agent and title insurance company/settlement agent will be there to guide you through closing and make sure everything runs smoothly. Your loan officer may attend if he or she is able. Sometimes the seller and their agent will attend, but often times the seller will sign their documents prior or at a different location, which is totally fine!
Signing Documents
Your hand is going to get a workout today! There are many different documents to sign at closing. Make sure your name shows the correct spelling and the property address is correct on all docs. If there are any mistakes, let your settlement agent know so they can be corrected. A few of the most important documents you are going to sign are the CD, deed, deed of trust (DOT) and note. The CD shows your closing costs, terms and cash to close. The deed transfers ownership of the property from the seller to you. The deed of trust (mortgage) pledges the property as security for repayment of the note. The note is a promise to repay your mortgage and it has the amount owed, interest rate, dates due and length of repayment. Your closing package may consist of 30-40+ documents.
Getting the Key
Once all of the documents have been reviewed and signed, you get the keys and the house is yours. Time to start enjoying your new home!