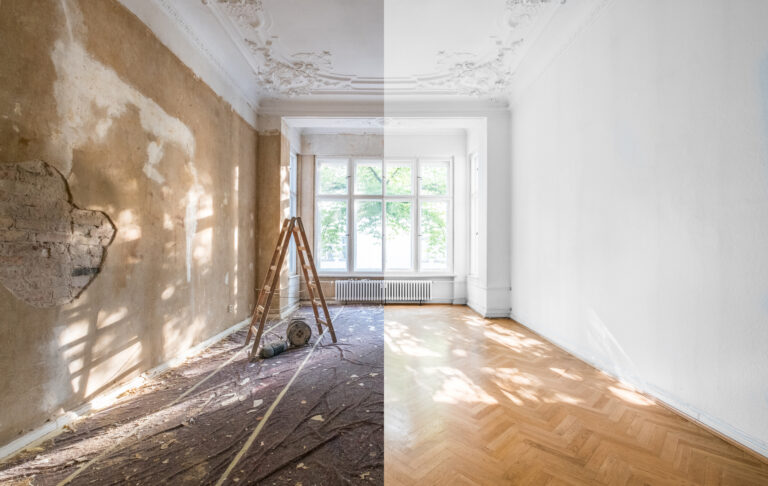 House flipping is when someone buys a home, usually for "cheap," with the express purpose of remodeling to increase its value and sell it for a profit. As shown by the nearly countless television shows made about flipping, the final result can be very impressive, but is buying and living in a home that has been flipped right for you? Read on for things you should consider before purchasing a flipped property.
Pros
Flipped homes often utilize the trendiest design styles and come with brand new appliances. In many cases, you get the charming exterior of an older or historic home with all the comforts of modern décor and technology. As a result, most of these homes are move-in ready and there should be little to no renovation work required on your part.
Cons
While there are some risks associated with any home purchase, the risk can be greater with flipped property. The home may look great, but it's important to make sure it's not just smoke and mirrors. In some cases, the person doing the flipping does a good job of simply covering up and concealing issues cosmetically without really fixing the problem. When a flipper is experiencing financial and time crunches, they may be more careless even with things that are important, like electric and plumbing work. Cutting corners like this could not only cause you headaches after move-in but can even be dangerous. This can also lead to issues of compliance, and it is essential you make sure all the proper permits were obtained and that your home is up to code. Otherwise, you may end up on the hook for a lot of money and work to get the home in regulatory order.
Things to Look Out For
There are certain things you can do to identify whether a home is flipped. A good indication that it was flipped will be through the property's history which you can view formally through the county assessor's office records or informally through most popular online real estate listing sites. Both options give you information about the home's sale history, and if it was bought within the last year or so, odds are it has probably been flipped.
Once you're touring the home, whether you suspect already it is a flip or not, there are some hints that could suggest it's a flip (of course, if it's a good flip, many of these things will be harder to spot or non-issues). Look out for flaws in flooring. If you spot anything painted that wouldn't normally be painted, it may be covering up other flaws. Speaking of painting, if there are paint spots where there shouldn't be or walls look sloppy, it can be a red flag; if they're willing to be careless with something as simple as painting, what else were they careless with? Check out cabinets, drawers, and doors to make sure they are functioning and don't hit anything when opened. Just be on the look out for overall poor workmanship.
Ultimately, your best bet to protect yourself from buying a poorly flipped home is to seek out a competent, experienced home inspector. They will know what to look for and will be able to spot red flags that may not be obvious to the average person. You should do this regardless of whether the home is flipped or not; you never know what issues could be hiding below the surface, and an inspector is your best chance at uncovering any problems before committing to a purchase.
Are you thinking about buying a home? Contact one of our Loan Officers today to discuss your mortgage options!