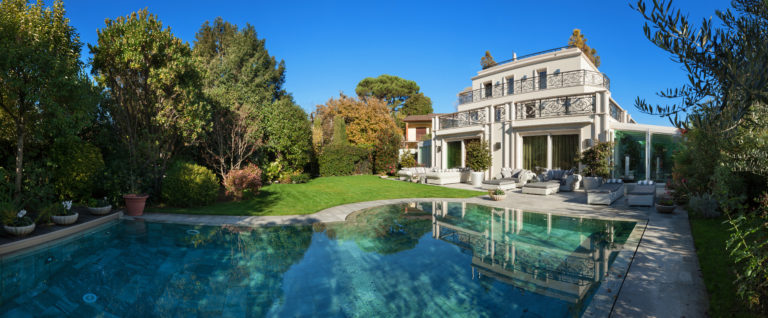 It's been a long, hot summer so far; thank goodness for that backyard swimming pool to cool you off! There's really no better feeling than walking out your back door and jumping in your own swimming pool. But what happens to that tropical paradise when those cold, winter months roll in? And when it comes time to sell your home, is your pool adding value to your home or hurting the resell value? Many factors can come in to play when deciding if a pool will increase or decrease your home's value.
How much use do you get from the pool?
If you live in an area where it is warm for most of the year, then a pool may be a good investment. Keeping up with the maintenance costs won't seem like as much of a burden when you are actually using the pool. However, if you live in an area where only 3-5 months of the year are suitable for swimming, it may be a turn off to keep up with monthly costs.
How does your house compare to your neighbor?
If you live in a neighborhood where most of the homes have pools, then having your own pool could increase your home's value. Since this is a desirable feature in the area, when ready to sell your home, it will probably be a little bit easier. If you live in a neighborhood where pools are uncommon, or there is a great community pool down the street, it may not make sense to have one in your backyard.
Is an in-ground pool better than an above-ground pool?
In-ground pools have the potential to add more value to your home than above-ground pools. An in-ground pool will typically last longer and require less refurbishing every few years. Since above-ground pools can be easily dismantled and removed, they most likely will not add any extra value to your home. If selling your home, potential buyers might see an above-ground pool as an eye sore, especially if there is no landscaping surrounding the pool to help it blend more easily into the backyard.
Has the pool been property maintained?
Pool maintenance costs can add up, but it may be more costly to you if you don't keep up with proper care. A well maintained pool will look attractive to potential buyers, making your entire home more sellable. Neglecting to take proper care of your pool may make it harder to sell your home because it would be an added expense and hassle for the new owners. If a pool is in poor condition, it could decrease the value of your home.
If you are looking to purchase a home that already has a swimming pool, or are thinking of adding a pool to your own backyard, take the above factors in to consideration. Try not to think of a swimming pool as an asset to your property, but rather an added value to your lifestyle and personal enjoyment.