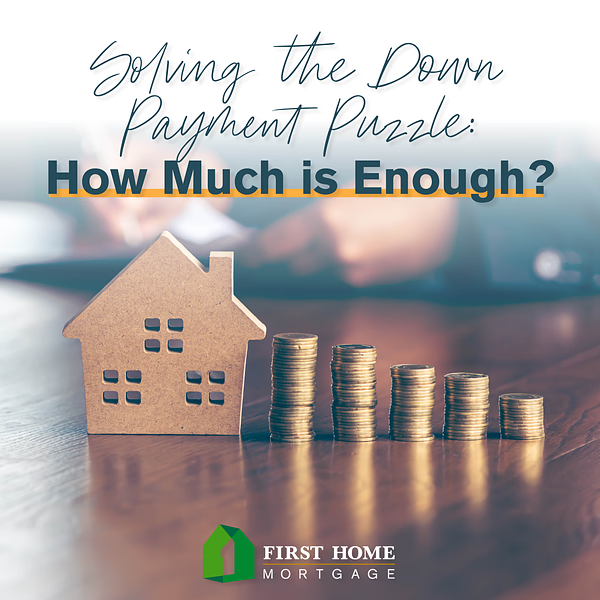 It's typically the first (and sometimes biggest) question prospective homebuyers find themselves asking before they enter the housing market. "How big does my down payment need to be?"
The down payment is a critical component of the homebuying process, as it determines the initial financial commitment and impacts important factors like loan approval and interest rate. While a 20% down payment is often considered the gold standard, there are various myths and misconceptions surrounding down payment amounts.
If you're in the early stages of buying a home and wondering what your down payment should look like, you may want to start here. In this article, we'll clear up some common misconceptions about down payments and explore options that may help buyers cover down payment costs or get a mortgage with smaller down payments.
Down Payments: Myth vs. Reality
Myth: You need at least 20% down to buy a home.
Reality: In a 2020 survey by the National Association of REALTORS®, 35% of consumers believed they needed 16% to 20% for a down payment, and 10% believed they needed more than 20%. In truth, the typical down payment for first-time buyers has ranged from just six to seven percent since 2018. In 2021, the average down payment was just 7% for first-time homebuyers and 17% for repeat buyers.
While a 20% down payment has long been considered the benchmark, it is far from the only option available. Numerous mortgage programs allow for smaller down payments, such as FHA loans that require as little as 3.5% down and conventional loans that may go as low as 3%. It's important to explore the available options and find the best fit for your financial situation.
Myth: More is always better.
Reality: While a larger down payment can offer certain advantages, such as potentially securing a lower interest rate or avoiding private mortgage insurance (PMI), it doesn't automatically guarantee a better mortgage deal. Other factors like credit history, income, and debt-to-income ratio also influence mortgage terms.
Also important to consider is that when buying a home (especially your first home), there are many upfront costs and unexpected expenses that may arise. Putting all your savings into a down payment could leave you in a challenging position in the event of a financial emergency. It's essential to consider your overall financial profile and consult with a mortgage professional to determine the right down payment amount for you.
Myth: You should wait until you have a big down payment saved up before starting your search for a home.
Reality: Many prospective homebuyers believe that without a substantial down payment, homeownership is out of reach. However, there are several programs and initiatives that can assist buyers with down payment costs or provide benefits to those with smaller down payments. For example, VA loans are available to eligible veterans with no down payment requirement, and USDA loans offer zero-down payment options for buyers in rural areas.
For qualifying homebuyers with low to moderate income, First Home's Dream Program offers $3,000 in down payment assistance. Other programs, like First Home Heroes, can provide fee credits to eligible buyers that lower closing costs, potentially freeing up funds for a larger down payment or other homebuying expenses.
Key Takeaways
The size of your down payment should be based on your financial circumstances and  available options – and you do have options. While a 20% down payment is often seen as ideal, it is not the only path to homeownership, nor is it as common as many believe. Various mortgage programs and assistance initiatives exist to help buyers with down payment costs or to accommodate smaller down payment amounts. Talk to a qualified loan officer to see which of these opportunities may be right for you.
By dispelling myths and understanding the facts, you can navigate the down payment puzzle and make informed decisions on your journey to becoming a homeowner.