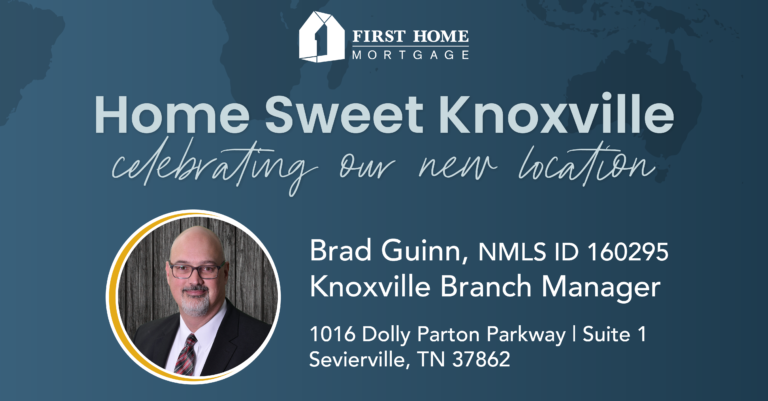 More exciting news about our ongoing growth and expansion efforts: First Home Mortgage is opening a new office location in Sevierville, Tennessee! That's right – following closely on the recent announcement of our latest branch expansion in Crofton, we're opening up a new chapter in a new state, bringing our total count to 33 offices in 21 states!
Just as with our previous office openings, we knew we'd need the right person to put together a talented team and lead our operations before we could open our doors. We're proud to introduce Brad Guinn, a recent addition to the First Home leadership team who will serve as the Sevierville branch manager.
"I am deeply honored to lead a dynamic team and contribute to the thriving East Tennessee housing market," Brad said. "With a strong local presence, I am dedicated to providing unparalleled service and expert guidance to the residents of Sevierville and beyond."
Brad has 30 years of experience in mortgage and financial services, including accounting, finance, and higher education. His comprehensive experience encompasses leadership roles, specialization in construction financing, and financial planning. His insightful approach and passion for leading and teaching has earned him a reputation as a trusted advisor within the industry.
Brad is also a family man and a proud, active member of the community. Outside of work, he dedicates some of his free time to leading a local youth athletic program that he and his wife founded, and supporting his two sons in playing various sports. Additionally, he teaches corporate finance at local university campuses as an adjunct professor.
Matt Nader, our Senior Vice President and Director of Sales, shared his enthusiasm for Brad's leadership and our new office opening.
"Brad's financial expertise and community-oriented approach perfectly position him as a strong fit and valuable addition to the First Home team," Matt said. "We welcome Brad as the leader of our inaugural office in the state of Tennessee and eagerly anticipate the positive impact he and his team will make in Sevierville and the surrounding area."
Through the launch of our Sevierville branch, we mark an important milestone, entering Tennessee to extend our mission of making homeownership attainable by all.
"We're entering a new era of growth and potential with the launch of this office," Nader added. "Brad and his team will lead us in offering new pathways to homeownership for the people of Tennessee."
With the help of Brad and his team, we are looking forward to making Sevierville and its surrounding areas a thriving hub of homeownership opportunities!