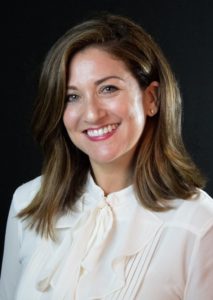 Raquel Borras recently joined the First Home Mortgage team with one main focus in mind- providing for the Hispanic community.  Being of Hispanic decent, she feels it is her obligation to help increase home purchases within the Hispanic population and help more Hispanic people build their career in the mortgage industry.  She firmly believes this community just wants to be treated with both understanding and respect; that they want to feel like they have the same opportunity as anyone else to buy a home.  Even if they are unable due to cash, credit issues, etc.,  Hispanic residents want someone to educate them on the home buying process so that they, too, can own their dream home.
For many years, the Hispanic community was targeted in a negative way.  Raquel wants to demolish that stigma and restore their faith.  According to the 2016 National Association of Hispanic Real Estate Professionals (NAHREP), Hispanics will account for 52% of new homeowners, with nearly six-in-ten categorized as Millennials or younger.  As a whole, hispanics are more youthful than any other U.S. demographic. Hispanics are projected to represent nearly 60% of homeownership gains in the next 15 years.  They have achieved a net gain of 1,103,000 homeowners, going from 6,198,000 in 2010 to 7,301,000 in 2016.   The number of total Hispanic households grew by 330,000 in 2016 which accounts for 38% of total U.S. household formation growth making them no longer a minority group.
Raquel lives by the golden rule: to always be kind.  In everything she does, she does it with honesty and integrity.  This is why she will make such a great asset to the First Home team.  Not only will she help increase homeownership in the Hispanic community, but she will help bring more diversity to the First Home Mortgage workplace.
For more information on the Hispanic community or to say, "welcome to the team!" see below:
Raquel Borras VP of Business Development- Emerging Markets
rborras@firsthome.com
NMLS ID: 1415097
O (703) 443 1150 ext. 3433
C (703) 434 0727
1602 Village Market Blvd. Suite 330, Leesburg, VA 20175