Time to dress up your lawn! Halloween is right around the corner, so break out your most spook-tacular decorations! Getting into the holiday spirit and decorating can be a fun activity for the entire family. Whether you want to keep it simple with a few pumpkins, or totally transform your entire yard, let your imagination run wild. Here are a few festive themes to get you started.
Spooky Spiders 
Think cobwebs, giant spiders and more cobwebs! Drape some cobwebs through the branches of trees and over bushes. Hang them from your front porch and near your front door to spook some trick-or-treaters! Add spiders of all sizes throughout the cobwebs. Scatter them across the lawn for an extra hairy look.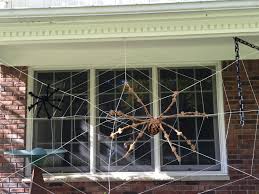 Creepy Cemetery
Turn your yard into a hauntingly scary graveyard. Include tombstones, skeletons and bones. Add a fog machine for an eerie setting. Feeling extra creative? Add an entryway with a chilling cemetery name at the front of your lawn. If you have leaves falling from the trees in your yard, don't bother raking them. An unkempt look makes a cemetery even more unnerving.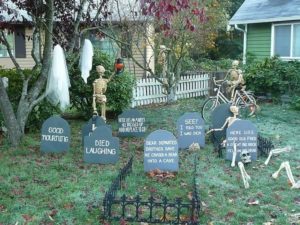 Magical Movies
Have a favorite Halloween-themed or scary movie? Now is the time to re-create the movie set! If you are a Harry Potter fan, decorate your yard like Hagrid's pumpkin patch or turn your house into a Hogwarts replica. More into The Haunted Mansion? This one is pretty self-explanatory. Turn your house into a neglected-looking manor; add in a sound machine producing scary ghost noises and creaking doors.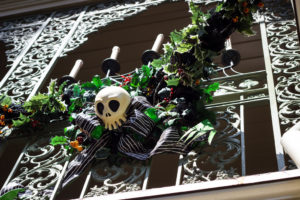 Simple Spirit
Minimum effort can sometimes have maximum effect! Keep it simple and line your porch with pumpkins and lanterns. If you don't like the mess of carving pumpkins, paint on some fun designs or bling them out with some glitter. Sparkle always adds a magical touch!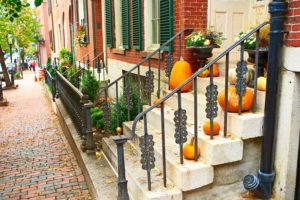 Big & Bulky
Inflatable decorations are an easy way to jazz up your lawn, and it won't take too much effort to set up. You can find just about any type of inflatable, from pumpkins to witches and ghosts to spiders. Don't limit yourself to one inflatable, go over-the-top and get 4 or 5, if they fit on your lawn.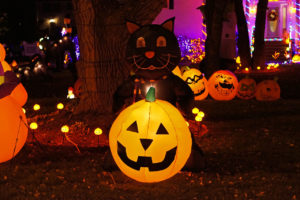 There is no such thing as too much, or too little decoration; Halloween is a time to be creative. So put on your thinking cap (or witch hat, whichever you prefer) and get to decorating! Soon you will have the best dressed lawn in the neighborhood.